The Smurfs Tour Le Touquet – for TWIN TOWN!
"SpecialEffect are incredibly grateful to have the support of the M Group, their support with the Twin Town Challenge and in many other ways really have helped us to raise vital funds and awareness that in turn help us to help many more young people with disabilities" – Nick Streeter

With TwinTown2020 postponed we reflect on our participation in the 2018 event.
For the second time, a number of The MGroup team took part in the Twin Town Challenge, a charity car rally to Le Touquet, which is twinned with Witney, where the firm is now well established in its new office.
On Friday 25th May 2018, one hundred cars costing less than £500 left from Blenheim Palace in Oxfordshire and headed to Le Touquet in Northern France on the Twin Town Challenge 2018.  Over the Spring Bank Holiday weekend, the teams will complete a number of fun points based challenges to raise money for Charlbury-based charity SpecialEffect.
Partner Peter Smith said, "we are looking forward to once again being part of a great fundraising weekend with other members of the Witney business community."
Teams all have a fancy dress theme and The MGroup's is Smurf-based this year with the slogan "because we're Smurf it".  This year's team was made up of Peter and fellow Partner Darren Green, Ian Walker who heads up the firm's Business Development, George Tattersall and Steve Basham who both trained and qualified with The MGroup.
The Twin Town Challenge is organised by Brendan Cross, who is MD of STL Communications and a SpecialEffect Vice President.  In advance of the weekend, Brendon said "The sight of 100 cars, 400 people in movie-themed fancy dress, not to mention over 50 volunteers, as they head off to France will be quite a sight to behold.  We have a fabulous programme of events in and around Le Touquet including a day at Abbeville circuit and a street party with live bands in the middle of Le Touquet."
All costs of the event have been covered by sponsorship, which means that every pound paid in entry fees as well as the fundraising by the teams goes straight to the charity SpecialEffect.  The Twin Town Challenge has been a real game changer for SpecialEffect.  Most importantly, the charity has already benefited from the £500,000 raised by the Twin Town Challenge in 2014 & 2016 but this escalated as the contacts made on the Twin Town Challenge brought wider gains, as Dr Mick Donegan, founder and CEO of SpecialEffect, explains:
"The legacy of each Twin Town Challenge always continues to blossom long after the event itself.  We are entirely dependent on donations to carry on our work, so events like this are our lifeblood.  We cannot thank the organisers and the Twin Town community enough for their passion and generosity."
Funds from the Twin Town events have been crucial in enabling SpecialEffect to establish a games room for people with disabilities to visit, to buy new vehicles and to take on more specialist staff to meet the rapidly growing demand for their support and services.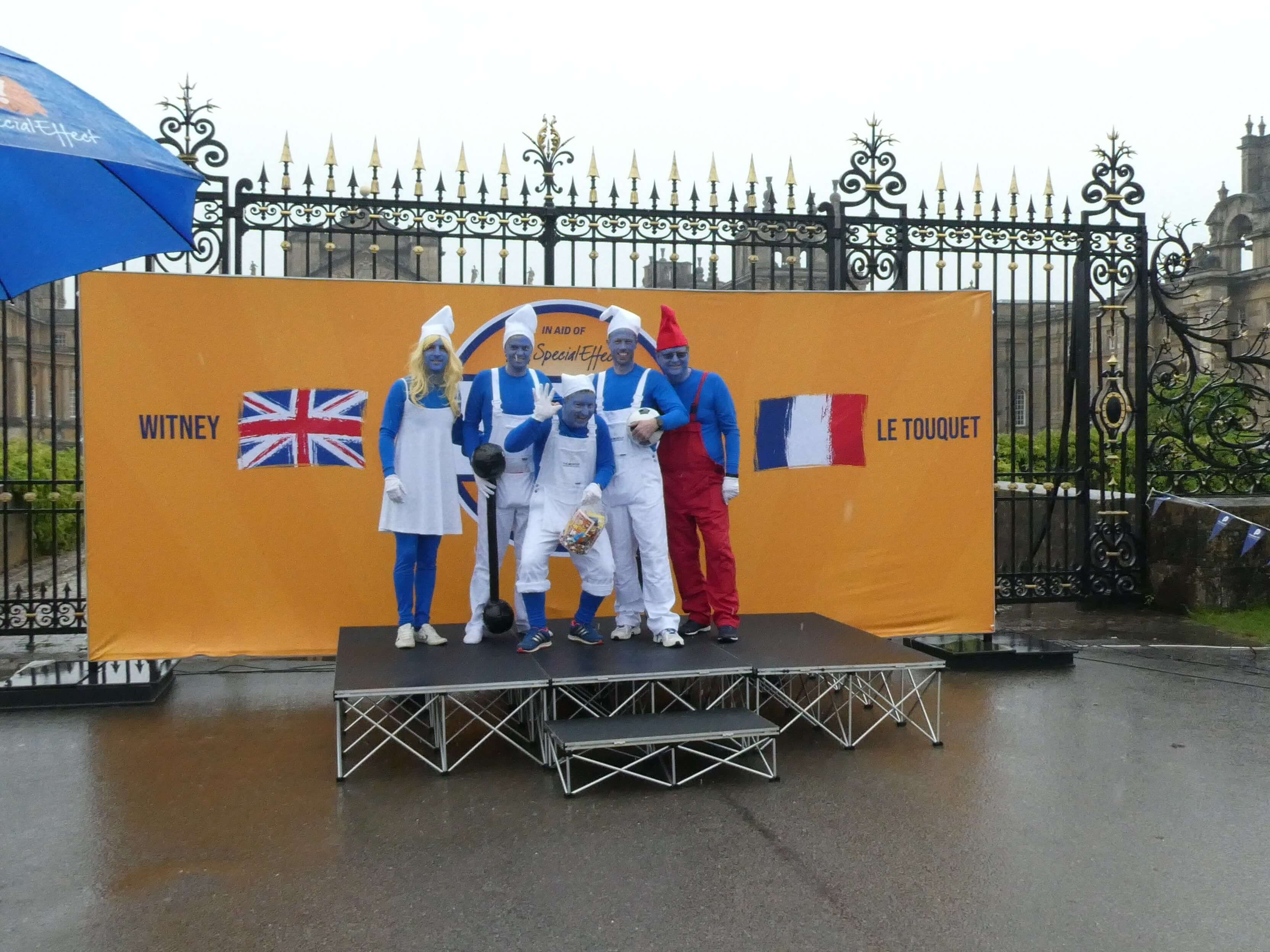 We are efficient and friendly advisers and are always happy to advise you on any business matters.
"I have nothing but admiration and respect for Geoff, Sandie and Lesley, the team at MGroup Corporate Finance who led us through the sale process - they are true professionals. Our key contact was Partner, Geoff Pinder, who took us under his wing, asking the right questions to help us make sensible decisions and protect our best interests. From the very first conversation it felt like they cared as much about our endgame as we did. We were both under a lot of pressure to close the deal and move on with our lives, so having a team we trusted by our side as we navigated game-playing, time-wasting potential buyers, was incredibly helpful. They are all wonderful people, and I would highly recommend you talk to them if you're planning to exit your business."
Dan Graham -  co-founder of F45 Training Stratford
"I am very grateful and happy to be working with the MGroup. They have been fantastic to work with. We are a USA based company expanding into the UK. I have absolutely no experience dealing with VAT and other tax laws regarding the UK. The MGroup held my hand every step of the way and explained things and carried out detective work to help get the job done. There is no way I could manage this business without their help and guidance. I would highly recommend the MGroup to anyone."
Kristin Garrett-Jarvis, CFO -  InfiniteAloe UK Ltd
"My company was recently introduced to the M Group because we undertook an MBO and they advised us to a successful conclusion. As part of this exercise they undertook due diligence work to show the lender that the deal would be fundable. In my view the standard of their work was excellent and I would recommend them to other potential clients. Many of the bigger professional firms no longer put their client's requirements and interests first, they tell you what can't be done not what can. I am glad to say that M Group are refreshingly different in this respect."
Simon E Hersh, FD – NS Optimum Ltd
"Mr Green has served as the personal tax accountant for my wife and myself since 2013. He has always been diligent and scrupulous in preparing our annual tax returns. He has also dealt efficiently and successfully with the Revenue Service on my behalf, regarding a charitable business account. I am pleased to recommend him wholeheartedly to any potential client."
"Without a doubt, I recommend speaking with The MGroup. They are very knowledgeable, very understanding, have a good feel for our business and accommodate us quickly when we need help. We frequently get approaches from other accountancy firms and I tell them that we have no need to look elsewhere as everything is catered for very efficiently by Peter Smith and his team. I couldn't fault them."
Peter Mace, Managing Director, TT Concrete
"Fortunately, when we were ready to expand our company to the UK we were referred to The MGroup. As a North America based enterprise we had little knowledge of UK business and tax matters. The MGroup helped us with everything from compliance and payroll regulations to establishing a banking relationship. The staff members are very responsive and we continue to rely on their support as our UK operations grow."
Laurie Diaz, V.P. Corporate Controller, Yardi Systems
"Mark has given me excellent Corporate Finance advice and support for 3 years and I would thoroughly recommend him. He is very tenacious in finding suitable companies to acquire and then good at negotiating and putting deals together, including the all important funding. He is also very innovative in finding solutions to issues arising along the way."
Mark Swaby is a Management Buy In client
"I used The MGroup for the first time to buy another Drainage Company to add services & coverage to my own. Mark and his team give a top rate service from start to end and we achieved the purchase within 5 months – good honest, knowledgeable advice from people who know their stuff."
"It is always a pleasure dealing with the M Group as they provide immediate assistance when we need it and are always prepared to go the extra mile to provide an excellent service to their clients. I have no hesitation recommending them and we have been extremely satisfied for many years."
Mr D Rist, Kennington Flooring Limited
""The MGroup have really been there for me and my business through the good times and the more difficult ones. Their advice has always been spot on, and has really helped me to plan ahead and to consider angles on decisions which I might not have thought about otherwise. As well as being admirably clear and straightforward, everyone I have dealt with there has been friendly, patient, and thoughtful, and has really taken the time to get to know my business."
Jessica Harvey-Smith, Debate Chamber Limited
"The MGroup team guided me through the entire buying process from my first inquiry to post-transaction. I understood what was achievable for me, and the personable, approachable nature of the team members enabled us to form a trusted partnership. MGroup acted on my behalf, always with professionalism and diligence. They were proactive and conscientious and I have recommended them to one of my contacts who is looking to conduct a buy/sell transaction. "
Alex Forster, Hunt Bespoke Kitchens Ltd
"We were recommended to use MGroup by our solicitor, and they proved to be invaluable in helping us acquire ownership of the company. After taking the time to come and visit our business premises, MGroup understood our industry, our situation and our hopes and expectations. MGroup were efficient and supportive and on hand, often at short notice, to join calls, answer questions and guide us through the entire MBO process. MGroup have been efficient and thorough throughout the process, and are still supporting us on some additional tasks even though we have completed our MBO. We will definitely go back to MGroup in the future if we need require any further financial services."
Andrew Simpson and Sam Kemp, Apex Fluid Engineering Ltd
Our exploration into the diverse and fascinating hobbies of The MGroup team continues. In this second part, we introduce you to more team members and their captivating interests. Geoff Farmer – Mastering Home Automation Geoff Farmer has a unique passion for home...
read more