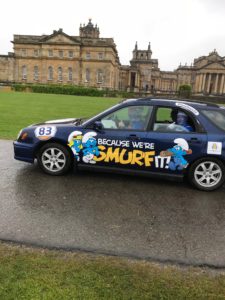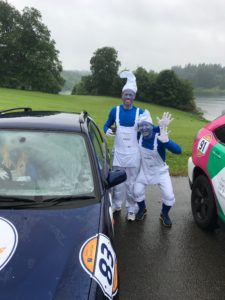 For the second year a number of The MGroup team are taking part in the 2018 Twin Town Challenge, a charity car rally to Le Touquet, which is twinned with Witney, where the firm is now well established in it's new office.
On Friday 25th May 2018, one hundred cars costing less than £500 left from Blenheim Palace in Oxfordshire and headed to Le Touquet in Northern France on the Twin Town Challenge 2018.  Over the Spring Bank Holiday weekend, the teams will complete a number of fun points based challenges to raise money for Charlbury-based charity SpecialEffect.
Partner Peter Smith said "we are looking forward to once again being part of a great fund raising weekend with other members of the Witney business community."
Teams all have a fancy dress theme and The MGroup's is Smurf-based this year with the slogan "because we're Smurf it" as evidenced on the photo of the car leaving Blenheim palace this morning.  This year's team is made up of Peter and fellow Partner Darren Green, Ian Walker who heads up the firm's Business Development, George Tattersall and Steve Basham who both trained and qualified with The MGroup.
The Twin Town Challenge is organised by Brendan Cross, who is MD of STL Communications and a SpecialEffect Vice President.  In advance of the weekend, Brendon said "The sight of 100 cars, 400 people in movie-themed fancy dress, not to mention over 50 volunteers, as they head off to France will be quite a sight to behold.  We have a fabulous programme of events in and around Le Touquet including a day at Abbeville circuit and a street party with live bands in the middle of Le Touquet."
All costs of the event have been covered by sponsorship, which means that every pound paid in entry fees as well as the fundraising by the teams goes straight to the charity SpecialEffect.  The Twin Town Challenge has been a real game changer for SpecialEffect.  Most importantly, the charity has already benefited from the £500,000 raised by the Twin Town Challenge in 2014 & 2016 but this escalated as the contacts made on the Twin Town Challenge brought wider gains, as Dr Mick Donegan, founder and CEO of SpecialEffect, explains:
"The legacy of each Twin Town Challenge always continues to blossom long after the event itself.  We are entirely dependent on donations to carry on our work, so events like this are our lifeblood.  We cannot thank the organisers and the Twin Town community enough for their passion and generosity."
Funds from the Twin Town events have been crucilal in enabling SpecialEffect to establish a games room for people with disabilities to visit, to buy new vehicles and to take on more specialist staff to meet the rapidly growing demand for their support and services.
To donate and help support SpecialEffect, please click here to take you to our fundraising page. This will remain open for donations until the end of August.